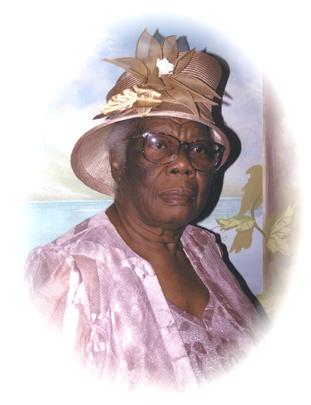 Fernande Valme was born on the 23rd day of July, 1924, in Leogane Haiti, a small village outside the nation's capital, Port-au-Prince. She was born Fernande Felix daughter of Julia Sylvain and Sermonbien Felix two farmers, who lived under very modest conditions. She was raised by her mother who was a devoted member at the Episcopal Church in her Village.At the age of seven, her mother moved to Port-au-Prince, leaving her with her aunt at "Cormier", a community of the same village. She later joined her mother in Port-au-Prince, where she attended her primary school classes at the Methodist Wesleyan Church. Due to her mother's financial and health problems, Fernande was unable to continue her education. Although her education was limited, her faith never wanes.
As a teenager, she was committed to her church and started volunteer work around her community. Her community work exposed her to the medical field where she learned basic wound care.As a young missionary, she traveled with her Church Pastor visiting the sickpeople, giving Holy Communion. She spread the word of God and provided basic wound care desperately needed in these remote areas. As a young woman, her passion for helping people and spreading the word of God were evidenced in her activities.She managed the choir of the First Baptist Church of Port-au-Prince. She remained at that post for 29 years. She also began prayer group sessions in her own home. These prayer sessions evolved into full fledged house of prayer.
Fernande and her house of prayer were renowned for helping those in need of prayer and those who required spiritual healing. The house of Prayer was the true foundation of her ministry as we know it today. At the age of twenty, she met a young man, Hyppolite Valme, whom she married. They had seven children: Mireille, Suze, Myrlande, Gerald, Yonel, Rode and Ketty. Although her growing family brought new responsibilities, Fernande did not let that interfere with her Ministry. Though her Ministry was growing, her personal life took a different turn: In 1957, her husband of eleven years abandoned her. Left to raise seven kids alone she persevered, and raised them as a single parent. Her kids grew up to become successful adult. Their collective professions include: a doctor, an engineer, nurse and teacher. She now has 24 grand children, and 20 great grand children and counting.
In 1971 Fernande emigrated to New York City. She moved in to an apartment in east Flatbush Brooklyn with as much enthusiasm for philanthropy and to spread the gospel. She again started with small prayer sessions out of her own home. It expanded into the basement at 2621 Newkirk Avenue. Fernande's prayer sessions outgrew the building and are now "Fernande Valme Ministries" and "Fernande Valme Community Center" in the facility at 1120 Flatbush Avenue. Fernande is especially dedicated to the youth. Her ministries and community center are especially focused on guiding youth in the right direction through various programs and events. There is one program in particular that she is especially dedicated too. Every Tuesday after Labor Day she has an annual event for all the students from preschool though college. It is a mentoring forum where focus and emphasis are placed on the importance of school and making appropriate individual choices. It is a sharing experience where older students speak of their experiences, their mistakes that can be avoided and their ability to cope and improve their future choices. She also invites doctors, lawyers, engineers and professionals from various other fields to encourage the youth to persevere. Fernande has never forgotten where she came from, and shows equal devotion to helping those in need in Haiti.
In 1984 Fernande returned to Haiti to plant the first brick on a large scale philanthropic facility that she planned to build. She has the architectural scale design of the facility on display at the 1120 Flatbush Avenue. This facility will include a hospital, daycare center, elementary school, a church and an artisan school. She planted this first brick despite the fact that she had no where near the financial resources to build such a facility. It is her dream. And where there is a will there is a way. Currently she has built the nursery and has served more than 200 children. Her devotion to this project has not faltered and continues on stronger then ever.Fernande's philanthropy has helped many people over many decades. She has been recognized for her contributions with various awards and certificates. Local leaders and politicians throughout the state have commended her for her accomplishments.
Most importantly the people she has helped and influence are most grateful. It is Fernande Valme's strong faith, her integrity, her love and care for people that we will always remember and hope to carry in our own lives. Her legacy will live in the commitment to carry her dream forth.